Golden Rule Breakfast
Niki McIlvain, Director of Habitat for Humanity, shared a special breakfast with four Rockhill students recognized for following the Golden Rule; Lizzy Thompson, Emmerson Johnson, Grace Kline and Connor Schaffhauser. These students explained why it is important to treat others the way you want to be treated. They enjoyed a donut and received a certificate and a goodie bag from Nikki. She shared her role with the students and the premise of Habitat giving a "Hand Up."
Maps
The third graders have been working on their map skills in Social Studies. They have learned about the seven continents, the oceans, landforms and important parts of a map. In culmination of their studies, each child will create their own island map. They will show what they have learned by adding landforms, map keys, compass rose and have fun naming their island. Students will ask their classmates questions about their maps to see if they can show what they have learned about reading maps. This is a fun life skill.
A Special Visit
Janet Kinsley and her therapy dog, Shalom, visited with Tricia Thompson's multi age class. The students got to know Shalom, learned about her job and Kinsley read stories. What a fun and informative visit.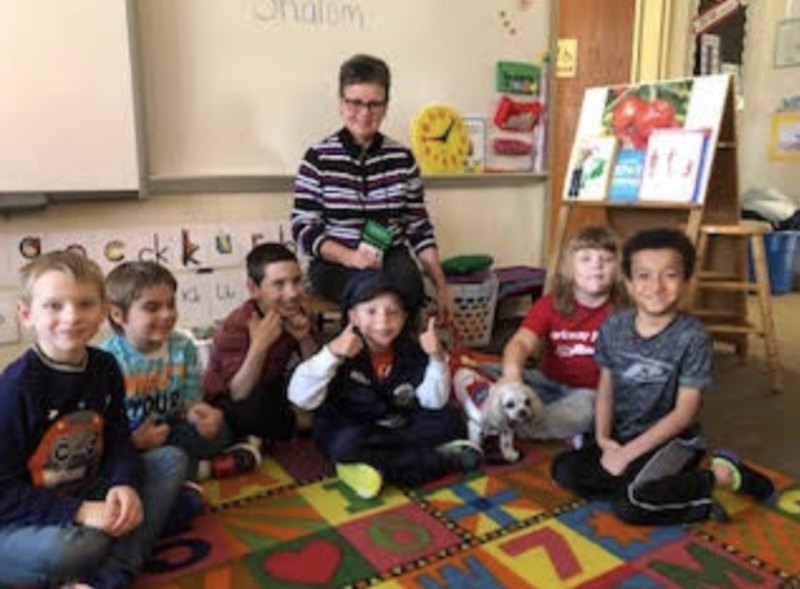 Conferences
Thank you parents for attending the fall conferences. Working together as a team will help your child succeed. We appreciate all of your support.
Navigators
During the after school Navigators Program, students receive homework help, spent time reading, participating in STEM learning and indoor/outdoor physical activities. Andrea Lee, Health and Fitness director of the Alliance YMCA, visited the Navigators Program every Wednesday to introduce students to various sports and fundamental skills.
"STEMigators"-Navigators in Bob Duncan's class have been studying science themes including "spinning things" and "magnetism." In this investigation students were able to power and race a car using only magnetism to create motion. Kaley Sloane's class read the story "The Chalk Box Kid" during the fall session. As an extension project, students created a chalk garden to be hung in the hallways.
Upcoming Important Dates
Nov. 27-19 - Thanksgiving Break
Dec -2-4 - Terra Nova/InView Gr. 2 Assessment
Dec. 2 - Rockhill Bookmobile
Dec. 9 - Parkway Bookmobile